South of Scotland golden eagle project gets off the ground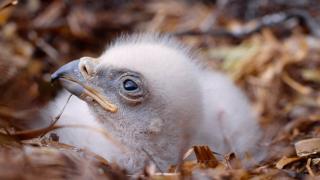 A project to boost golden eagle numbers in the south of Scotland is ready for take-off.
At present there are only between two and four pairs of the bird across Dumfries and Galloway and the Borders.
The five-year South of Scotland Golden Eagle Project has already secured £1.3m from the Heritage Lottery Fund.
Further support will now let it recruit four team members to help pave the way in southern Scotland for the release of chicks collected in the Highlands.
A study has shown that the habitat in the area is suitable for up to 16 pairs of breeding birds.
The project has secured more than £150,000 match funding from Dumfries and Galloway and Scottish Borders LEADER programmes plus a licence from Scottish Natural Heritage to undertake the work.
That will allow the project to begin before the end of the year.
"This is a really exciting time as the project is now starting to happen and we will soon start to see tangible local benefits," said project manager Cat Barlow.
"Work will start in earnest next summer, when we will collect a number of golden eagle chicks in the Highlands and Islands and bring them south to be reared and released from an already identified location."
Environment Secretary Roseanna Cunningham said it was "good news for nature and good news for communities across the south of Scotland".
"We must protect and enhance Scotland's biodiversity and the new team will be doing exactly that," she said.
"Their work will help secure the future of golden eagles in the south of Scotland and benefit local communities through a range of tourism and educational opportunities."
The project - a partnership between a range of groups - is also seeking a full-time eagle officer to lead the collection and release programme.
It will have its headquarters at the Southern Upland Partnership's offices in Galashiels.
Mark Oddy, who chairs the scheme, said: "This venture is not just about birds, but is also about people, and in the coming months we will be working closely with people living and working in the south of Scotland, so everyone can get behind our endeavour.
"In the years ahead, many hundreds of people will have the opportunity, through trails, events and CCTV, to learn more about the golden eagle and its role in Scotland's biodiversity.
"I hope it will inspire and empower them to safeguard its existence for future generations."