Galloway glens land lottery jackpot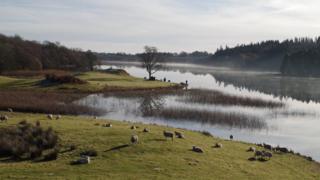 A project to care for the landscape of south west Scotland and reconnect people with its "natural beauty" has landed a £2.73m grant.
The support comes from the Heritage Lottery Fund (HLF).
The Galloway Glens Landscape Partnership will see villages and communities conserve and restore "the built and natural heritage".
Lucy Casot, head of HLF Scotland, said species and habitats could make a "massive contribution" to the economy.
"The enormous pressures upon them mean that we have to approach landscape restoration and conservation on a bigger scale than ever before," she said.
"Massive community consultation has shown that the people of Galloway are keen to make a difference to the wonderful natural asset they have on their doorstep.
"HLF is delighted to help them achieve that goal, bringing real cohesion to the natural and built heritage of Galloway glens."
Scheme chairman Sir Alex Fergusson said it was the news the partnership had "all been waiting for".
He said it would aim to connect people with their local heritage but also put the area "on the map".
"Work will begin in earnest in 2018, but what a wonderful Christmas present this is for everyone from Carsphairn to Kirkcudbright," he added.