Dumfries asylum patient artworks put online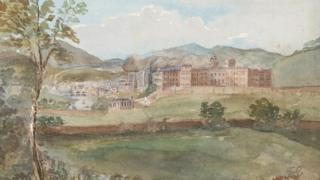 Examples of art produced by patients have been put online as part of a document collection from a south of Scotland asylum.
The records date back to the opening of the Crichton Royal Institution in Dumfries in 1839.
More than 180,000 images of records can now be viewed online.
The collection, owned by NHS Dumfries and Galloway and deposited with the local council, is said to be of "international significance".
Over the past six years, funding from the Wellcome Trust has helped Dumfries and Galloway Council's archive service to catalogue, conserve, preserve and then digitise the documents.
The digitisation was carried out by Glasgow University's photographic unit.
Council archivist Graham Roberts said the first physician superintendent at the Crichton - William Browne - had been very keen on trying to rehabilitate patients.
"The previous thinking had been 'lock them up' if they were considered to be, at that time, 'mad'," he said.
"That was not his idea at all.
"He wanted to give people a new opportunity and different forms of therapy were how he wanted to do this - get them involved, keep them active - and art was one of them."
Mr Roberts said they hoped to expand the collection in time although some items could not be made available.
"Not everything has been digitised because some material is still too sensitive to digitise because it is too recent like some of the case notes of the patients," he said.
"Also we have acquired more material since the digitisation was done - maps and plans and these kind of things."
However, he said they would like to carry on in future although that would depend on funding.