Tobacco dog targets motorway cigarette offences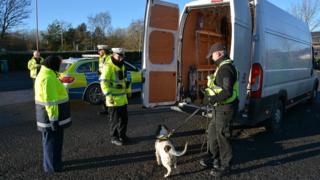 A joint police and trading standards operation has been targeting counterfeit goods in transit using the A74(M) motorway.
Tobacco detection dog Dixie helped carry out checks at service areas at Gretna and Johnstonebridge and the DVLA checkpoint at Beattock.
Police said more than 100 vehicles were stopped during the operation.
Road traffic, environmental, counterfeit goods and cigarette duty offences were detected on the route.
Sgt Bob McNay said: "The issue around the sale of counterfeit goods is always at its peak in the run up to Christmas.
"We were only too happy to assist colleagues in trading standards to carry out these checks and will look to doing similar in the future."