Historic bridge near Melrose reopens ahead of schedule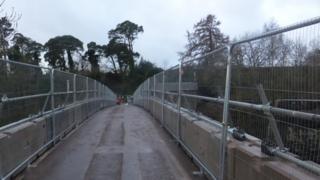 A 250-year-old Borders bridge has reopened to cars and light vehicles five days ahead of schedule.
The Lowood Bridge over the River Tweed near Melrose shut for emergency work on 4 December.
It was expected to remain closed until 18 December but evening and weekend work has allowed it to return to use earlier than planned.
It remains shut to pedestrians and larger vehicles due to the restricted width now available.
A speed restriction of 20mph has also been imposed.
The bridge is expected to shut again at the end of January for a major repair and strengthening programme at a cost of about £640,000.