Hawick flood protection scheme confirmation sought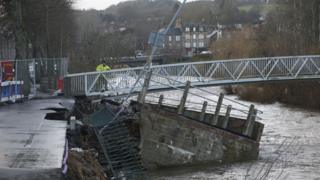 A council is being asked to confirm its plans for a £44m flood scheme to protect more than 900 properties.
It could allow the project in Hawick to be completed by 2022.
The town has suffered repeated problems resulting in the multi-million pound plans being drawn up to try to tackle the situation in the long term.
Scottish Borders Council has been advised to make a final decision to confirm its plans this week in order for the project to proceed.
A report has concluded that with no objections from people in areas affected by flooding or by the work there is no need to refer the scheme to Scottish ministers.