Inside the UK Men's Shed of the Year
By Nichola Rutherford
BBC Scotland News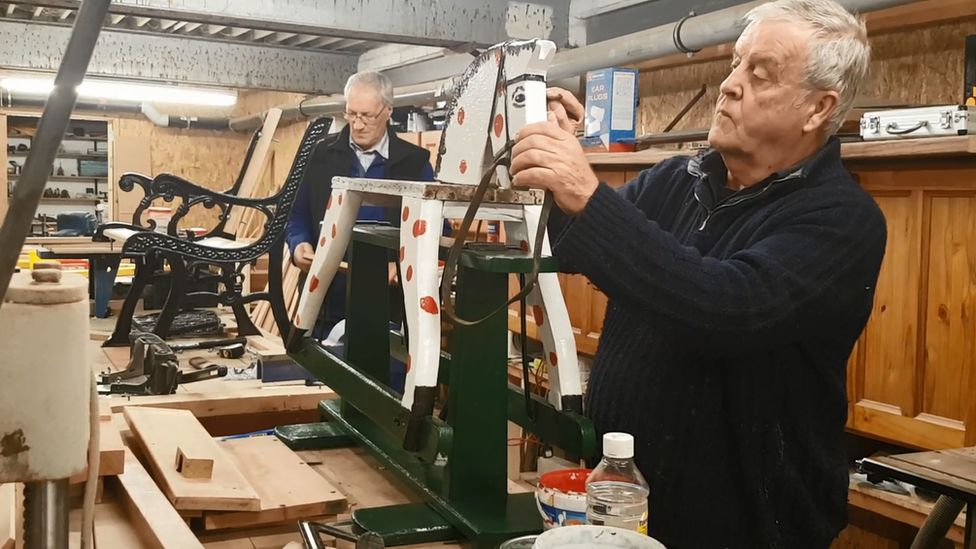 Behind the doors of a former factory on an industrial estate in south-west Scotland, a group of men are hard at work - but this is no ordinary workplace.
This is Dalbeattie Men's Shed, where local men in their 50s, 60s and 70s meet twice a week to "plooter about in workshops".
Using wood, plastic or metal, they can turn their hands to just about anything, from clocks and pens to bookcases and tables.
The Shed was set up three years ago by a core group of five in a bid to tackle the social isolation felt by many men in their retirement.
Since then its numbers have swelled to more than 50 and its success has been recognised on a national scale - it has been named Men's Shed of the Year 2017.
The UK Men's Shed Association said Dalbeattie stood out as it went "above and beyond to help as many local people as possible".
The group maintain the town's Christmas lanterns, and they have restored furniture and play-things for Dalbeattie's new nursery.
Last year they also repaired a 10ft tall illuminated cat centrepiece for Dalbeattie Civic Week - and even made a duplicate from scratch.
Secretary Geoff Allison said they were proud that the award had "put Dalbeattie on the map".
The group - a social enterprise - was originally started as a way of connecting like-minded people who may be struggling with retirement.
Founding member Brian Atwell said the Shed had filled a hole in the community, as well as in the lives of its members.
"It fulfils a lot of things for a lot of men," said the 78-year-old retired marriage guidance counsellor.
"For a lot of men, when work stops, there's nothing left. Once they've painted the house and done all that, they're left saying 'now what?' Well, here's what."
Among the regular commissions for photo frames and coffee tables, Michael Sands is working on a slightly more unusual order.
He is constructing a trebuchet for a residential centre for vulnerable children in Lanarkshire
"It's a medieval war machine which is used for throwing rocks at castles," said Mr Sands, a former car workshop service manager.
"It's probably our most unusual commission and it's certainly given me the most fun.
"Trying it out is going to be brilliant. We're going to be like naughty schoolboys again," he joked.
The 66-year-old was encouraged to join the Men's Shed by his wife. After living in Cape Town for many years, he had become isolated in his retirement.
"At first I was quite reluctant to come, I don't know why, maybe it was a bit of shyness or something," he said. "But I came and it was brilliant."
It has allowed him to indulge his passion for woodwork, despite not having the space for such a hobby at home, and he has made "a stack" of new friends.
What would he be doing if he wasn't at the Men's Shed?
"Probably sitting at my computer or watching daytime TV," he said. "It's a toss up between this and watching Cash in the Attic, there's not much in it, is there?"
When Geoffrey Thomas retired to Scotland from Sussex five years ago, he spent the first six months of his retirement "on the couch watching television".
At his wife's suggestion, he joined the Shed in its earliest days he has never looked back. He is now the group's treasurer.
The 69-year-old said: "It's just amazing what it's done for me. I feel a lot better in myself.
"Certainly, it's a wonderful feeling that you're doing something not only for yourself but for the community and believe me, Dalbeattie is a wonderful community."
Retired painter and decorator Derek Caldow was giving some "TLC" to a child's rocking horse donated to the group by a local man.
With the Men's Shed, the local football club and his grandchildren, he said "life just flies by".
"The best thing is the company and it keeps you going, keeps you active. What else would you be doing on a winter's morning?"
It's not just for pensioners however. Army veteran David Stott, 55, turned to the Men's Shed while suffering from post-traumatic stress and combat stress.
He has acquired new skills and he is making his wife a new coffee table.
"Before I was all to myself, I wouldn't do anything, I wouldn't speak to anybody," he said. "But now I'm speaking to everybody and getting along great with everybody.
"If I wasn't here I'd probably be stuck in the house doing nothing, in my own little bubble.
"But since I've come here the bubble's burst and I'm away."
Related Internet Links
The BBC is not responsible for the content of external sites.