Hawick flood protection scheme given final approval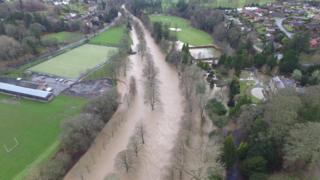 A council has given final approval to plans for a £44m flood scheme to protect more than 900 properties.
It should allow the project in Hawick to be completed by 2022.
Stuart Marshall, who represents the area on Scottish Borders Council, described it as an "early Christmas present" for the town.
The scheme was drawn up in an attempt to address repeated problems with flooding in the area.
A report to the local authority recommended approval for the plans.
It concluded that with no objections from people in areas affected by flooding or by the work, there was no need to refer the scheme to Scottish ministers.