Dumfries secondary school transfer put back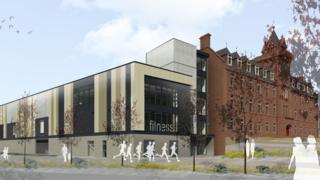 A council has put back the date for moving pupils back into their secondary school following a £24m overhaul.
It was originally intended students at St Joseph's College in Dumfries would make the transfer in mid-February.
They will now move into the refurbished building two months after that in the middle of April.
A letter to parents said the work was on track and on budget but it was felt using the longer Easter break could ensure "minimal impact on learning".
The project is part of the first phase of the wider Dumfries Learning Town project designed to upgrade education facilities in the town.
Pupils are currently in temporary classrooms in the school grounds.
'Wonderful environment'
Dumfries and Galloway Council said feedback from its Dalbeattie Learning Campus move had led to the decision to make the delay.
It said that would allow more time to resolve any issues and ensure the move went well.
It added that the new building would provide a "wonderful learning environment" and the change of date would ensure the move was "as smooth as possible".
Work on the other developments in phase one of the learning town project is currently ongoing.
However, the council revealed earlier this year that the second phase was being held up while a financial package was being put in place.
It would see a new campus developed including Dumfries High School, Noblehill Primary and Nursery as well redeveloping the David Keswick Sports Centre.
Dumfries Academy would also be overhauled with Loreburn Primary School relocated to the site.
A new Laurieknowe Primary and Nursery school will be built on their current site.