Police probe 'suspicious' Carrutherstown death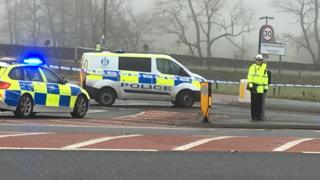 A man found injured in a south of Scotland village has been detained by police after the discovery of a woman's body.
Police were called out to Carrutherstown at about 06:00 following reports of a man being found hurt.
Another injured man was found nearby and later a 52-year-old woman was discovered dead in a house.
The main road through the village remains sealed off while forensic work continues.
Officers said the 35-year-old man was taken into custody after treatment at Dumfries and Galloway Royal Infirmary.
The second injured man remains in hospital but his condition is not thought to be life threatening.
Police have revealed the three people involved in the incident knew each other.
Ch Insp Steven Stiff said: "We are in the early stages of this investigation but we can confirm we are not looking for anybody else.
"The 35-year-old man in custody was one of those involved in the incident and those people were known to each other.
"The major investigation team from Police Scotland are working locally which includes a lot of forensics work and speaking to witnesses.
"It is sad at this time of year, so close to Christmas, that a 52-year-old lady has died."
Police were called to the Dumfries and Galloway village when a woman on her way to work saw an injured man beside the A75 at the western entrance to the village.
The main thoroughfare through Carrutherstown was closed for most of the day, with police apologising for the impact this had for local people.
Ch Insp Stiff said: "It has been necessary to keep a fairly expansive section of the road closed.
"This is due to forensic evidence we need to secure. We only get one chance to do that properly, so it is essential."