Selkirk weather vane returns to rightful place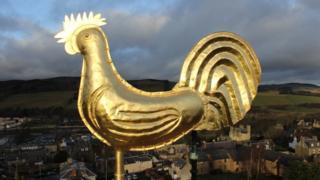 A repaired weather vane has been returned to its rightful place on a prominent Borders building.
The gold leaf covered cockerel has been put back on top of the Sir Walter Scott Courthouse in Selkirk.
It is part of wider £300,000 repairs to the steeple which is a centrepiece of the town's conservation area regeneration scheme (Cars).
Future work will see refurbishment of the clock faces and repairs to high-level stonework.
Work began in October and is expected to last until spring next year.
Built in 1803 as the sheriff court, the building was where Sir Walter Scott dispensed justice to the people of Selkirkshire.
In a joint statement, Gordon Edgar and Elaine Thornton-Nicol, who represent the area on Scottish Borders Council, welcomed the weather vane's return.
"The courthouse is one of the most interesting buildings in Selkirk and its refurbishment is important to the history, and the future, of the town," they said.
"The weather vane being repaired and returned to the steeple is a great milestone as we head into 2018, while the information boards in the Courthouse Coffee Shop will provide local people and visitors with the latest details on the scheme.
"While the Selkirk Cars and Selkirk Streetscape Scheme are progressing, the town remains open for business and we would encourage local people to continue to support our local shops, pubs, cafes and restaurants over the festive period."