Springholm's speed detection lights switched off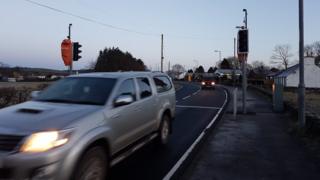 A ground-breaking set of traffic lights which are triggered by speeding vehicles have been switched off just weeks after they were installed.
The lights were set up on the A75 in Dumfries and Galloway to reduce the speed of motorists through Springholm.
But within days of their installation, drivers complained that they turned red even when they were travelling below the 30mph limit.
Scotland TranServ said it was investigating an "operational issue".
Two sets of traffic lights, linked to speed monitoring devices, were installed at the entry and exit to the village last month.
They were put in place in response to community concerns about speeding through the village.
Operators said the lights would remain green if vehicles travelled under the limit, but they would turn red if vehicles exceeded 30mph.
They became operational on 11 December before being switched off shortly before Christmas.
Long-term solution
A Scotland TranServ spokesman said the community had been "widely positive" about the new traffic lights.
But he added: "An operational issue has been identified with the traffic signals, which we are currently investigating.
"These lights are the first of their kind and as such may be susceptible to minor snagging.
"A decision was taken to switch off the lights during this period of low traffic flows with a view to carrying out further calibration of the system.
"This is a priority and we will aim to resolve this matter as quickly as possible.
"Scotland TranServ, on behalf of Transport Scotland will continue to monitor the lights and develop them as a long-term solution for the Springholm community."