Storm Eleanor strikes in south west Scotland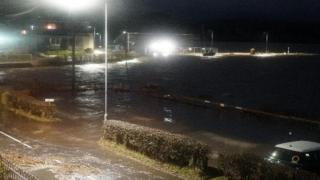 Storm Eleanor has caused significant coastal flooding and blocked a number of roads in south west Scotland.
Police in Dumfries and Galloway said the region had been "battered" overnight by strong winds.
They said many coastal roads still had issues with standing water and advised motorists not to try to drive in flooded areas.
A number of routes were blocked by fallen trees but police said council staff were dealing with them.
Among those affected by the storm was the Nith Inshore Rescue site in Glencaple.
They posted footage on Twitter of the water in their base saying: "Even the flood rescuers get flooded!".
Dumfries and Galloway Council said a "major incident" had been declared shortly after midnight by police in response to a number of calls in the region.
It said that some roads remained shut and there had been "isolated incidences" of power cuts but no indication of widespread issues.
The council added that the weather would be monitored throughout the day and action taken where required.
Flood warnings remain in place around the country after Storm Eleanor swept in late on Tuesday.
A number of notices were issued by the Scottish Environment Protection Agency (Sepa) for Wednesday, mostly covering Dumfries and Galloway.
Fifth storm
Warnings have also been issued for Grangemouth, Culross, Longannet and Kincardine in the central and Fife areas.
The fifth storm of the season has moved into the North Sea and a warning for high winds - initially in place until Wednesday evening - has been moved south of the border.
A 77mph gust was recorded at West Freugh and 72mph at Dundrennan, both in Dumfries and Galloway, on Tuesday evening, according to the Met Office.
However, the strongest winds in the area are thought to have passed.
Issuing its flood alert for Dumfries and Galloway, Sepa said high tides combined with a large storm surge were expected throughout the region and warned that coastal communities and roads may experience flooding around high tide on Wednesday.
The agency has also issued flood alerts for coastlines in northern Scotland.
The latest warnings come days after the country was hit by Storm Dylan.