Dumfries bus stop attacker caught with victim's phone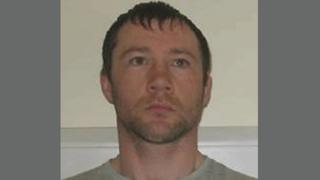 A man who attacked a stranger was caught after being found with the victim's mobile phone.
Shaun Clelland, 35, had recently been freed early from jail when he assaulted Mark McLaren last April.
A court heard how he struck him with a bottle as well as punching and stamping on him at a bus stop in Dumfries.
Clelland had been due to stand trial for attempted murder but admitted assaulting and robbing Mr McLaren to his severe injury and danger of life.
The High Court in Glasgow heard how his victim had been standing at a bus stop when the attack took place.
Clelland initially appeared to be chatting with his victim but witnesses soon saw him assaulting Mr McLaren who ended up on the ground.
A woman dialled 999 for the 37-year-old whose face and head were "covered in blood". He was taken to hospital and needed surgery for a punctured lung.
Clelland was later identified as a possible culprit - and police went on to find Mr McLaren's LG phone at his attacker's home in the town.
'Appalling record'
Prosecutor Robert Frazer told the court: "Mr McLaren was later shown the phone.
"He identified it as the one taken from him."
Judge Lady Rae told Clelland he had an "appalling record".
The court heard he had been released from prison for a previous violent offence just a month before the attack.
Ewen Roy, defending, said Clelland had "little recollection" of the crime.
The lawyer went on: "He has a memory of sharing some of his personal problems.
"However, he cannot offer any proper explanation for the change in his mood.
"A change to aggression and a subsequent unprovoked assault and robbery."
Lady Rae remanded him in custody and deferred sentence until next month for reports.