New Dumfries hospital 'coping well' under pressure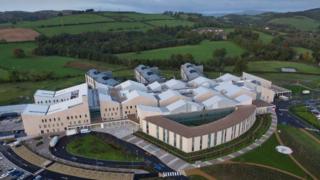 A medical director has said a new multi-million pound hospital is "coping well" with a sharp rise in admissions.
Dr Ken Donaldson said the Dumfries site had now been able to move from red to amber status.
He said the new hospital, which opened last month, had experienced the same pressures as were being encountered by other health boards nationwide.
He added that staff had gone "above and beyond the call of duty" to help cope with the situation.
The hospital was put on red status on Wednesday in response to an "extremely high level" of emergency department and GP referrals.
It is part of its "escalation protocol" and can be enacted when a department is faced with the prospect of admission numbers exceeding available capacity.
It allows the freeing-up of capacity in beds and staffing from other areas.
Not complacent
Amber status signifies that there is a limited capacity available, and action is necessary in order to meet projected demand.
Dr Donaldson, from NHS Dumfries and Galloway, said the pressures at the new site were being seen throughout Scotland.
"It is nothing to do with the new hospital, we are seeing this across the country - every hospital is under a severe amount of pressure," he said.
"I think we are actually coping very well under the circumstances.
"I am not aware of any issues relating to the new hospital."
However, he said that the health board would not be complacent despite the move to amber status on Thursday afternoon.
"We are continuing to work hard to ensure we have the capacity in place to cope with demand, and the increased numbers of respiratory issues and cases of flu," he said.
"And we would continue to ask that people give thought to the best first point of contact when seeking medical assistance, with support available from the likes of community pharmacies as well as GP practices."