Galloway forest set for TV starring role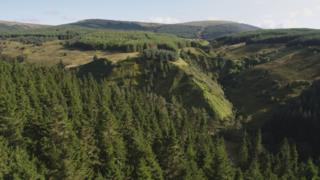 A new six-part television series is to put the Galloway forest and the people who live and work there centre stage.
The Forest is produced and directed by Jack Warrender who grew up on a farm in nearby Barr in South Ayrshire.
He said he had not been allowed to explore the woodland as a child but filming the series had opened his eyes to the "full glory" of the area.
He added that people from the south west of Scotland had also been hugely supportive of the project.
Mr Warrender has recently returned to live and work in Scotland having worked on films including The Best Exotic Marigold Hotel, Captain America: The First Avenger and World War Z.
He said winning over local people to the cause had not proved too hard a task.
"With a lot of programmes it can be very difficult to get people onside or enthusiastic about something," he said.
"People say: 'I don't want to do that, why would I want to be on telly?'.
"It is about getting past that and getting to the point where people understand what you are doing and are prepared to help you do it.
"I would say with The Forest it was a resounding success on that side of it because everybody was helpful."
Filmed over the course of six months and narrated by actor Mark Bonnar it looks at all aspects of life in and around the area.
Forestry workers, wildlife rangers, tree planters, astronomers and rally drivers are among those to feature.
District forest manager Colin Hossack said the series might prove an eye-opener to people outside south-west Scotland.
"A lot of the local population are quite well aware of the forest activity that goes on in Galloway," he said.
"But looking wider across Scotland I don't think people quite appreciate the level of activity.
"We are producing 600,000 tonnes of timber every year out of the Galloway forest - that's 24,000 lorry loads of timber."
Mr Hossack said the range of activity in the area might also surprise some people.
"There's a lot going on here and it's not just the forestry - there are a lot of environmental programmes, tourism, recreation," he said.
"The programme is really about that diversity within the forest."
The series has been made for BBC Scotland by Tern TV, whose previous programmes have included The River, looking at the Tweed in the Borders, and The Mountain which focussed on Aviemore.
The first episode of The Forest is on BBC One Scotland at 19:30 on 8 January.