Jim Clark anniversary events unveiled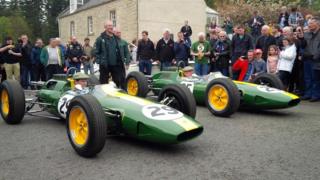 A series of events has been unveiled to mark the 50th anniversary of Jim Clark's death.
The double Formula One world champion was killed in a crash in Germany on 7 April 1968.
The programme includes a church service in Chirnside and groundbreaking for a new museum in Duns.
The driver was born in Kilmany in Fife, but raised in the Borders, and was crowned Formula One world champion in 1963 and 1965.
Other events planned over the weekend of 7 and 8 April include an exhibition including some of Clark's cars and an anniversary dinner.
The full programme is available on the Jim Clark Trust website.
Doug Niven, a cousin of Jim Clark and JCT trustee, said everyone was welcome to the events.
"It is quite incredible how his memory remains so strong and emotional even 50 years on," he said.
"We feel honoured that so many people have shown interest and we want this weekend to be both a commemoration and celebration to inspire future generations."
He thanked Club Lotus, Live Borders and Chirnside Common Good Association for helping to make the events happen.
"It will be intriguing to see if we can uncover new memorabilia that may be of interest to the new Jim Clark Museum with the Chirnside Hall exhibition," he added.
"We are delighted with the support of Classic Team Lotus and a display of some of Jim Clark's incredible race cars which I am certain will help attract people from far and wide."
Plans were confirmed in September last year for a new £1.6m museum in Duns in honour of the driver.
It is expected to open in spring next year.