Great Tapestry 'catalyst' aims to help boost Galashiels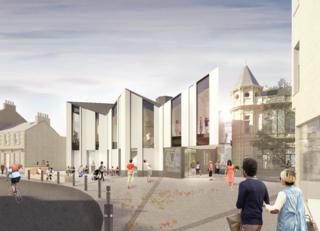 A permanent home for the Great Tapestry of Scotland has been highlighted as a "catalyst" to help revive the heart of a Scottish Borders town.
It comes after councillors approved a "masterplan" to boost the fortunes of Galashiels.
It ties in with the return of rail services in 2015 and the £6.7m project to build the tapestry visitor centre.
Sandy Aitchison of Scottish Borders Council said that could help to make the whole area more attractive.
"We are delivering the tapestry but, as I say, that will be the catalyst for developing Channel Street, Market Street - Bank Street, of course, which is our most attractive street - and also the High Street," he said.
"But it will bring the whole town centre into something like a place where visitors will want to come."
He said that would not only be to see the tapestry but also to take in the other attractions the town had to offer.
"Once we get people into Gala then what can happen is that everything and everybody benefits," he added.
Rail services returned to the town a little more than two years ago with the opening of a station on the Borders Railway.
Last year councillors approved the demolition of an old Poundstretcher store to make way for the tapestry visitor centre.
A separate application for internal and external alterations to the nearby old Post Office was also approved.
Vacancy rate
A completion target for that project has been set for 2020.
A report to councillors highlighted the plight of towns like Galashiels which it said had suffered from retail parks on the edge of Edinburgh and online shopping.
It said it had a town centre retail vacancy rate of 17% which was the highest among towns in the Borders.
It is hoped the masterplan can help to tackle that situation by encouraging investment in the area.
Details of the vision for the town are available on the council's website.