Scotland's silver taken on tour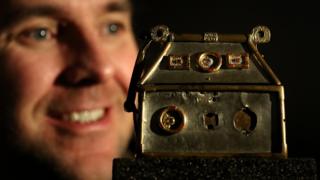 Displays showing how silver was once the "most powerful" metal in Scotland are set to tour the country.
The Scotland's Early Silver exhibition at the National Museum of Scotland in Edinburgh looks at its importance in the period from AD 75 to 1000.
Principal curator Martin Goldberg said the metal was a "fundamental key" to look at society at that time.
From May this year to March next year the display will head to Stornoway, Banff and Kirkcudbright.
The story dates back to Roman times when the earliest silver arrived in Scotland and coins were seen as a symbol of status and Roman favour.
The exhibition includes the recently-unveiled Dairsie Hoard, which dates to the late 3rd Century, and the Gaulcross hoard, discovered in Aberdeenshire in 2013.
It is supported by a research partnership between NMS and The Glenmorangie Company.
Mr Goldberg said: "Through one material we can show a chronological progression.
"For some reason gold isn't the material of choice.
"Gold is available but silver becomes the thing used to show wealth."
Scotland's Early Silver will go on display at Lews Castle in Stornoway from 3 May to 23 June before moving to Kirkcudbright Galleries from 7 July to 30 September.
Duff House in Banff will then host the exhibition from 12 October to 17 March 2019.