Champion puddle jumpers sought at Caerlaverock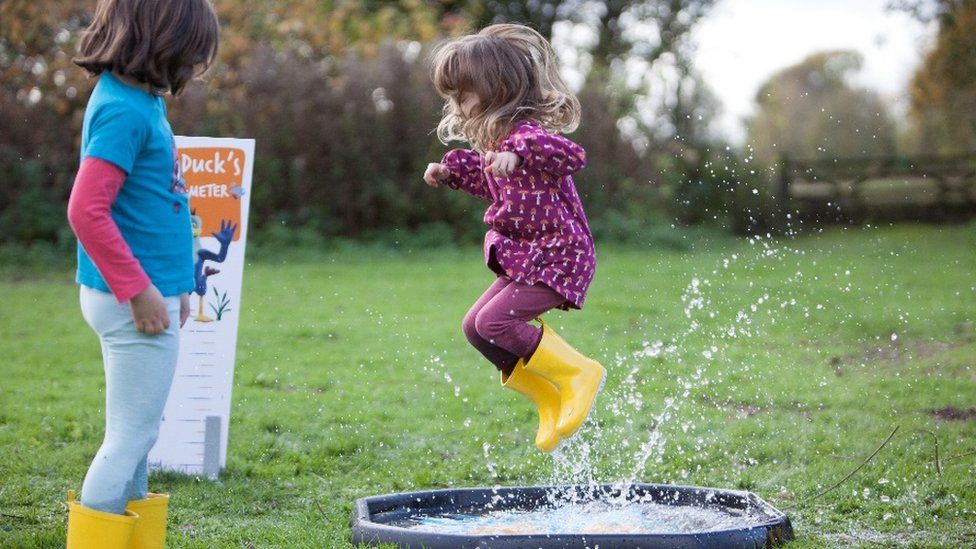 A puddle jumping championship is being staged at a wetland centre in the south of Scotland.
The event is being held from Saturday until Tuesday at the Wildfowl and Wetland Trust site at Caerlaverock.
People will compete against one another to see who can produce the biggest splash - measured by special "splash-o-meters".
Practise zones have been put in place around the main competition area to allow entrants to hone their technique.
"We have lots of puddles at Caerlaverock because we are a wetlands centre," explained WWT engagement officer Faith Hillier.
"We have a competition area where we have special plastic puddles set out and people can come along and show us their puddle jumping skills.
"We are looking for height of splash, enthusiasm and style and creativity - we give marks out of 100 and it's for all ages.
"So you can come along and show us what you can do."
The competition runs from 12:00 to 14:00 each day with entrants encouraged to wear waterproof boots and clothing.
"The WWT has been running this, this is the third year of it, we have 10 centres around the UK - in England, Northern Ireland and Wales as well, we are the only centre in Scotland," added Ms Hillier.
"It is just a way of encouraging people to get outdoors and learn about wetlands and the wildlife and have fun outdoors."
Related Internet Links
The BBC is not responsible for the content of external sites.