Buccleuch confirms talks to sell Eskdale and Liddesdale farms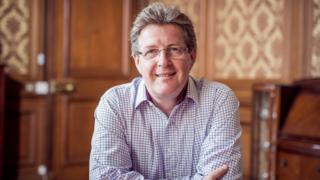 One of Scotland's biggest private landowners is in talks to sell farms to its tenants.
Buccleuch has confirmed it has started discussions with 11 farmers who have registered an interest in buying the sites in Eskdale and Liddesdale.
It has written to a further 13 tenants offering talks to "understand future aspirations".
Chief executive John Glen said it kept its farming operations "constantly under review".
The company represents the business interests of the Duke of Buccleuch and is responsible for more than 200,000 acres of land.
'Positive choices'
"Since 2000, Buccleuch has sold 22 farms to tenants across the south of Scotland," said Mr Glen.
"Such sales enable the tenants to make positive choices for their future, and the estate to reinvest the capital released into new projects, such as Glenmuckloch pump storage hydro and Dalkeith Country Park, strengthening the rural economy.
"We are excited by the opportunity that this affords both parties."
He said Buccleuch made decisions on the use of land by balancing the "economic, environmental and community impacts".
'Security of tenure'
"The completion of this assessment on the Eskdale and Liddesdale Estate identified that the farms let on traditional tenancies can be sold," he said.
"Tenants who do not wish to consider purchasing their farms will continue to enjoy the security of tenure of their 1991 Act agreements.
"These discussions follow those already held to convert limited partnership tenancies into sales to tenants, conversion to appropriate modern limited duration tenancies and minor pockets of land use change.
"We remain a very active farmer ourselves and that will not change."
'Out of the blue'
The Scottish Tenant Farmers Association gave the move a "cautious welcome".
Chairman Christopher Nicholson said: "Buccleuch's announcement has come out of the blue and represents a tremendous opportunity for the tenants who are being given the chance to buy their farms.
"Most tenants on secure tenancies will have invested heavily in their farms over the generations and this investment must be reflected in the purchase price of the farms, which should be subject of a tenanted discount.
"If Buccleuch are serious in their intentions to sell, we would expect independent and transparent valuations and a willingness to negotiate a realistic purchase price."