Boy rescued from waist deep mud on the Solway coast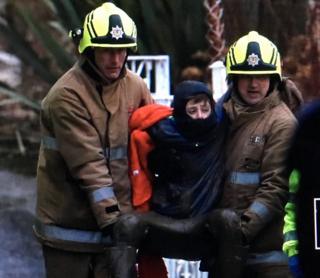 A 12-year-old boy has been rescued after he was stuck for more than an hour up to his waist in mud.
Nearly 40 coastguards, firefighters, police, ambulance and lifeboat crews fought to free the boy on the Solway coast in Dumfries and Galloway.
The boy had been fishing near Kippford when he got stuck in the River Urr estuary at Rough Firth.
He was treated at the scene by paramedics, then taken to hospital, suffering from shock and hypothermia.
The alarm was raised by people on the shore who spotted the boy sinking into the mud.
Coastguards from nearby Portling and Annan, 35 miles away, rushed to the scene along with firefighters from Dalbeattie, Castle Douglas and Dumfries.
The Kippford inshore lifeboat and Annan coastguard boat also took part in the rescue.
The boy was eventually pulled to safety and treated at the scene by paramedics before being taken by ambulance to Dumfries Infirmary.
Seaside hazards
A spokesman for Belfast coastguard, which co-ordinated the rescue operation, said: "Fortunately it had a happy ending but people must realise the hazards and dangers at the seaside.
"The lad was eventually brought out just as darkness was starting to fall. We're just pleased it had a happy ending.
"The mud may look safe but it can be extremely dangerous and it is very difficult for rescuers to get out to some people who get stuck."
A Police Scotland spokesman said; "At 4pm today, emergency services responded to calls reporting a distressed 12-year-old boy was stuck, waist deep, in the mud near Kippford.
"Around an hour later the emergency services were able to free the boy from the mud/water and get him safely back to shore.
"A good news story and a great bit of multi-agency teamwork."