Drive to rebuild 'forgotten' early car
By Nichola Rutherford
BBC Scotland News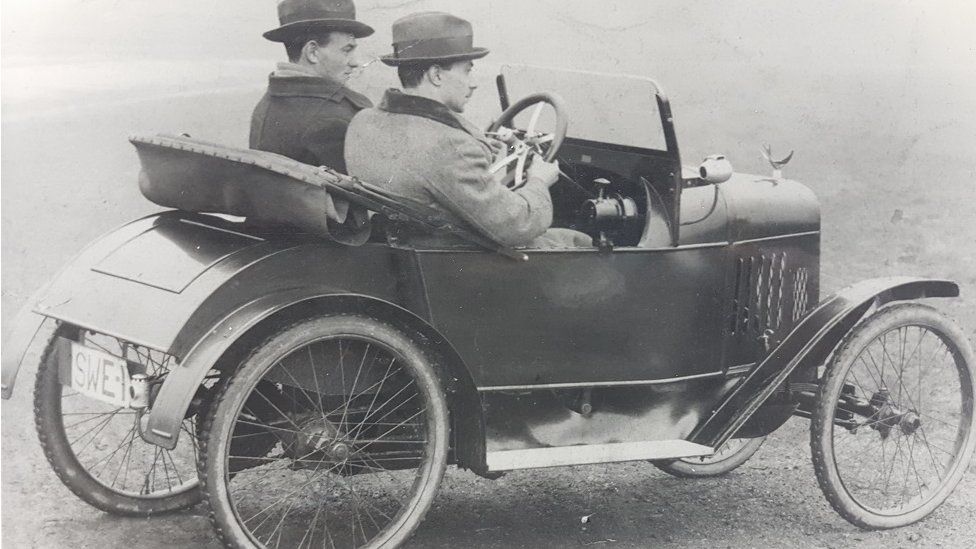 When James Skeoch designed and built one of Scotland's first affordable cars, he must have dreamed of huge success.
With a price-tag of just £180, the first Skeoch Utility Car was the cheapest on display at the Scottish Motor Show in 1921.
It sold within 10 minutes and a further nine were quickly snapped up by customers keen to join the automobile revolution.
But within months Skeoch's business was in ruins. His uninsured workshop in Dalbeattie, Dumfries and Galloway, burned to the ground.
Since then the Skeoch Utility Car has been largely forgotten by all but keen historians of Scotland's motor industry.
Now, almost 100 years later, plans are are being drawn up to recreate the so-called "cycle car" in the town where it was manufactured.
The ambitious project has been taken on by a group of mainly retired local men, known as Dalbeattie Men's Shed.
Using some of the original parts and working from the original drawings, they hope to build a working Skeoch car in time to mark its centenary.
Motoring enthusiast Martin Shelley approached the Men's Shed with the idea for the project after reading about the group on the BBC Scotland website last year.
"Using the Dalbeattie Men's Shed's energy, enthusiasm and skills to recreate the car seemed like a match made in heaven," Mr Shelley said.
He said "cycle cars" were first invented in the early 1900s and they got their name after using motorcycle engines and wheels.
They became increasingly popular after World War One, when soldiers returned home from the front line, having become used to driving.
Mr Shelley said: "After World War One, the ordinary working man was much more used to the idea of riding a motorcycle or driving a car so they knew about the technology and now they wanted to try and build their own cars.
"In the early 20s, there was a huge flowering of people making these cars. As it turned out, Skeoch in Dalbeattie were the only people in Scotland to ever attempt to make these things commercially."
The original drawings and parts - including the radiator badge - were found in the Wishaw home of Ron Skeoch, James Skeoch's son, after he died last year.
Mr Shelley said he hoped they could be used to capture the "spirit" of the 1920s vehicle.
"You could make a replica of the car which would pass muster, using a modern engine and a modern gear box and using modern parts. But the spirit of the car is very much based on the parts that were available in 1920," he said.
"This project will be very like the original car and that to me is what the joy of the whole thing is."
The granddaughter of James Skeoch, Fiona Sinclair, is also involved in the project.
She never knew her grandfather - he died in 1954 - but she hopes that her mother - Skeoch's daughter - will get the chance to ride in one his cars.
"I think it's going to mean a lot to my family," she said. "It's tragic that the fire put an end to his ambition.
"I'm actually rather hoping I can physically get to sit in the car, I'm not quite sure I could be trusted with driving it.
"It's only got two gears apparently but I think it would be rather wonderful. What I really hope is that my mother gets the opportunity to actually sit in the car as well."
The project is "immensely exciting", said Geoff Allison, the secretary of the Dalbeattie Men's Shed, which has members with engineering and mechanical skills.
"It's engineering-rich, it's Dalbeattie-rich, it's community-rich, it fills so many of our requirements," he added.
"It's big, it's going to be eye-catching, it's going to be something for posterity. It's got a lot to recommend it."
Related Internet Links
The BBC is not responsible for the content of external sites.