German prisoner of war theatre shows revived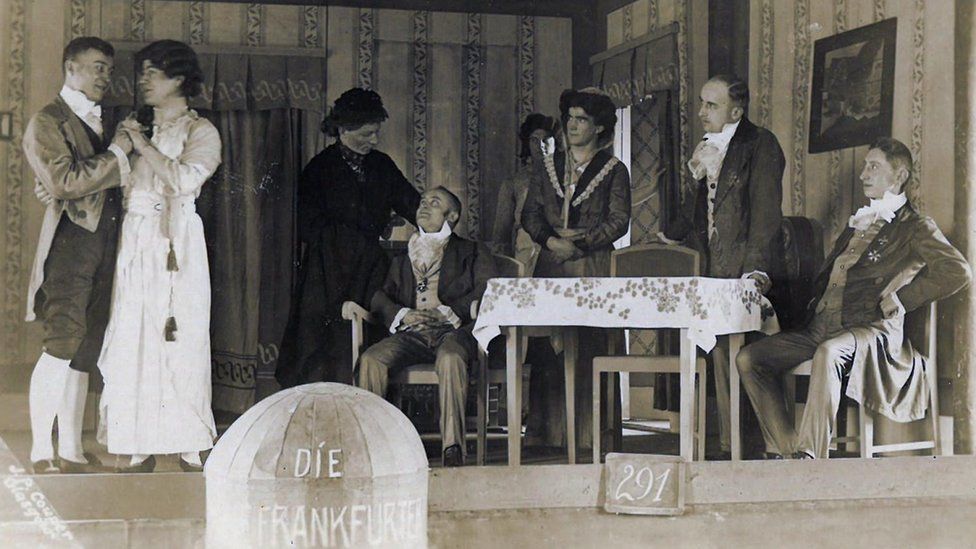 Theatre shows put on by German prisoners of war are to be recreated to help raise awareness of life in World War One internment camps in Britain.
It is part of a wider project which will also see an information and research centre set up in the Borders.
It will be created in Hawick, close to Stobs Camp, one of the best preserved internment camps in the world.
The scheme is being led by academics from Birmingham's Aston University and Napier University in Edinburgh.
They will use Arts and Humanities Research Council funding to offer the public new perspectives on the "inner life of the camps that existed on their doorsteps".
It builds on earlier work by Aston's Dr Stefan Manz on the German diaspora between 1871 and 1914 and the wartime internment of Germans as "enemy aliens", and Edinburgh Napier's Dr Anne Schwan's research on the history and literature of imprisonment around the turn of the century.
The project will see Edinburgh Napier stage a Lustspielabend comedy evening as it would have been performed by Stobs internees in 1917.
It will take place at venues in Edinburgh, Glasgow and Hawick in June.
Reconstructed from a programme found in Hawick Museum, the show will combine light music with comedy plays and will be performed by an all-male cast, with female roles filled through cross-dressing.
A travelling and online exhibition on the internment camp system in Britain and the Commonwealth is also planned.
The Heritage Hub in Hawick will host the new information and research centre, the only facility of its kind in mainland Britain.
It hopes to become an "international focal point for the study of internment in the British Empire during World War One".
Project leader Dr Manz said: "Despite all the humour involved, our project uncovers a dark chapter of Anglo-German relations. Germany also interned British citizens in return.
"The involvement of German project partners makes sure that we remember this chapter together as a joint experience, moving away from purely national remembrance.
"In an age where, yet again, ethnic and religious minority groups are seen as a threat to internal security, our activities highlight that state action can have devastating effects on communities."
Dr Schwan, who leads on the music and theatre productions, said the project offered a chance to showcase the "creativity and resilience" displayed by people in internment camps.
"It explores the human cost of war and imprisonment but also the positive interactions between internees and local residents," she said.
"As we are currently faced with the challenges of Brexit and new debates about migration, such a re-examination of cross-cultural encounters is timely."
Related Internet Links
The BBC is not responsible for the content of external sites.