Waste firm Renewi seeks to end Dumfries and Galloway PFI contract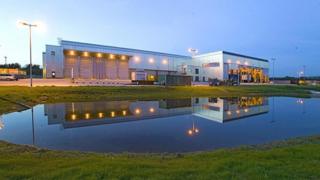 A waste recycling firm has announced it is in talks with a Scottish council to terminate a loss-making Private Finance Initiative (PFI) contract.
Renewi said it had been unable to meet legislation which sets new landfill diversion and recycling requirements.
It added that talks to amend the 15-year-old deal had been unable to find a "workable solution".
Dumfries and Galloway Council said the move would not affect current service provision in the region.
The company hopes to end the contract in the next financial year.
'Seamless transition'
Managing director James Priestley said: "Regrettably, the D&G PFI project and Renewi's operating contract do not currently meet the objectives of the new Zero Waste Scotland legislation.
"Terminating the operating contract is not a decision we have taken lightly and we will work with Dumfries and Galloway Council, our employees and our other stakeholders to ensure a seamless transition.
"Whilst our termination discussions are taking place, we will continue to ensure a high-quality and efficient service to the council and the residents of Dumfries and Galloway."
The council entered into a PFI contract with Shanks Dumfries and Galloway in 2004.
It was to provide a "comprehensive treatment, recycling and disposal contract for its waste management service" based on the "current and expected requirements of legislation at that time".
'Reassure the public'
Shanks entered into an operating sub-contract with Renewi to operate the services involved within the contract which the council said continued to enjoy Scottish government support.
A council statement said Shanks had confirmed to them Renewi wished to terminate its contract and had made a loss of approximately £3m in the last year.
"The council's over-riding aim is to continue to ensure that its waste collection and disposal service, which is a priority for its residents and businesses in the region, is maintained and complies with all legal requirements," it said.
"To this end the council will work with Shanks Dumfries and Galloway to secure continuity of service.
"The council wishes to reassure the public that there will be no change to the current service provision and wheeled bins and waste containers will continue to be collected as normal."
It added that household waste recycling centres would also maintain their current opening hours.