Woman robbed on motorway hard shoulder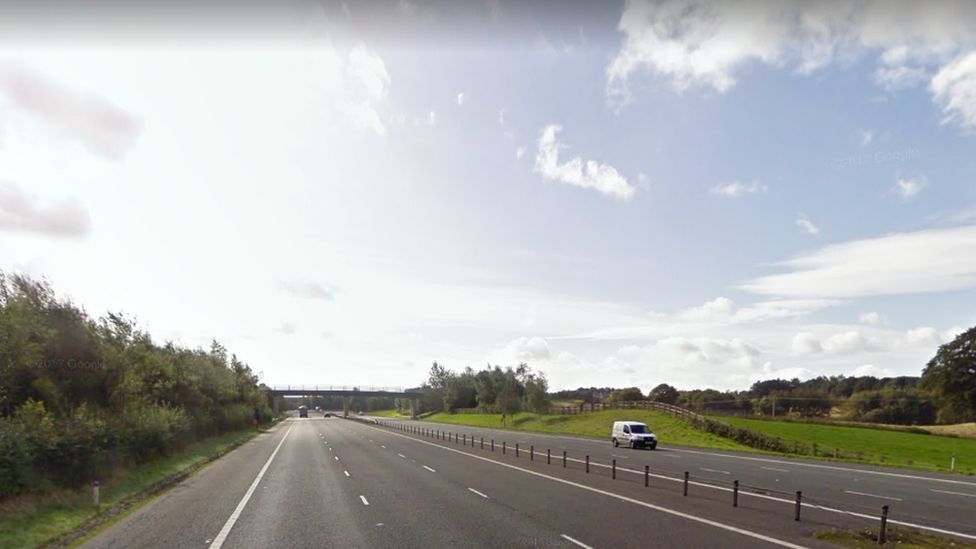 A woman was robbed while she was parked on the hard shoulder of a motorway in the south of Scotland.
The 32-year-old was targeted after her car suffered a flat tyre on the A74(M) near Johnstonebridge on Friday.
A group of three people stopped their vehicle, before one grabbed her by her neck, demanded money and made off with cash and a mobile phone.
Police said the woman suffered a "traumatic experience" at the hands of "despicable individuals."
The incident happened between 18:30 and 19:00 on Friday, when the woman noticed her white Volkswagen had a flat tyre.
She pulled on to the hard shoulder between junctions 16 and 17 on the A74(M), about three miles south of Johnstonebridge.
After phoning for help at an SOS phone box, police said she returned to her car.
But when a small silver car approached, and its three occupants offered to help, she got out of her vehicle.
However, she was then pushed back into the car by one of the men. He grabbed her by her neck and demanded money.
He then stole a three-figure sum of cash and her mobile phone, before returning to his car and driving south.
The woman reported the robbery using the SOS phone box.
Det Sgt Andy McDowall appealed for help in tracing those responsible.
"This was a very traumatic experience for a young woman to endure and it is vital that we trace the despicable individuals responsible," he said.
"I appeal to any drivers who were travelling on the A74(M) around junctions 16 and 17 and may have witnessed this incident, or anyone who saw the small silver car in the vicinity around 19:00 last night, to contact police immediately."
The suspect who grabbed and pushed the woman back into her car is described as white, tall, with a muscular build and he had short brown hair.
Related Internet Links
The BBC is not responsible for the content of external sites.