Jim Clark's legacy 'still growing' 50 years after his death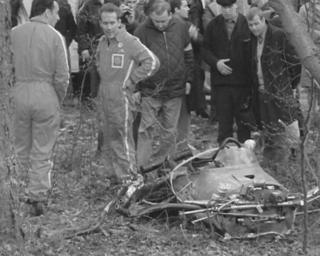 The footage is still shocking, even to this day.
The car of one of the finest racing drivers ever to have lived reduced to bits of wreckage strewn among the trees next to the track at Hockenheim.
In one fatal moment 50 years ago, on 7 April 1968, a sporting legend was gone.
Jim Clark, a double Formula One world champion, was just 32.
"The world mourns the loss of a likeable man who was also one of the greatest grand prix drivers of all time," said the British Pathe news announcer.
Clark's cousin, Doug Niven, a family trustee of the Jim Clark Trust, is not surprised his relative is still revered to this day.
"He was a very modest man, he was almost a reluctant driver in the early days," he said.
"He was a fair, unassuming man and a great driver with no airs or graces.
"His legacy has grown and grown and still seems to be growing."
A plaque on a memorial to him in Chirnside in the Scottish Borders and his gravestone in the village give another indication of the modesty of the man born in Kilmany in Fife on 4 March 1936.
His description as a farmer at Edington Mains comes before any mention of his motor racing achievements.
But what achievements those were, from humble beginnings in amateur races across the south of Scotland and northern England he rose rapidly to the top of his sport.
Capturing the eye of the Lotus team he took a string of honours which made him the man to beat of that racing generation.
A world champion by 1963 - and then came his "magical year" of 1965 when he was crowned world champion again and won the Indianapolis 500.
In total, he would win 25 grand prix putting him top of the all-time table at the time.
A few years ago, even long after his death, it was enough to see him rated number three in a BBC list of the top Formula One drivers of all time.
It described how Clark "towered over his era".
"Alongside his speed, Clark also had a rare ability to drive around problems," wrote chief F1 writer Andrew Benson.
"His smooth style took so little out of the car, a crucial skill with machinery as fragile as his."
That was echoed by Sir Jackie Stewart in the documentary Jim Clark: The Quiet Champion.
"He was so smooth, he was so clean - he drove with such finesse," he said.
"He never bullied a racing car, he sort of caressed it into doing the things he wanted it to do."
"I don't drive any faster, I just concentrate harder which makes me go faster," Clark himself once said.
It brought him recognition around the world for his achievements - receiving an OBE and featuring on the cover of Time magazine as "the quickest man on wheels".
He was still at the peak of his powers in 1968 when he took part in the Formula 2 race which would turn out to be his last.
Clark's car failed to appear at the end of a lap and was subsequently found to have crashed at high speed into trees.
He was put in an ambulance but pronounced dead before he could reach a hospital.
'Special man'
"Nobody really has come up with a definitive answer to what happened," recalled Mr Niven.
"It was a wet day and the car wasn't going very well."
Even in a sport used to tragedy it was a shocking event - if this could happen to the very best, drivers realised, it could happen to any of them.
"I think Jim Clark's loss was the one that hit everybody most," said Sir Jackie.
"He was a special man - one of a kind, the like we have never seen since."
The reaction back in Berwickshire - where huge crowds had turned out to welcome him after his world title victories - was one of disbelief.
"When the news came through it was such a shock - there was stunned silence," said Mr Niven.
"We couldn't really believe that it could have happened to Jim, he seemed indestructible."
The accident would also have a wider effect on the sport and Jim's racing colleagues.
'Improve safety'
"His death in a minor race made them all feel vulnerable," explained Andrew Tulloch, assistant curator of the Jim Clark Memorial Room.
"If Jim Clark could be killed, then they could too.
"This provided a great spur for Jackie Stewart's effort to improve safety in the sport - this and a number of other high-profile accidents over the next few years."
As the reality sank in, arrangements were hastily made for Jim's funeral back in a quiet little corner of the Borders.
"I remember seeing all these Formula One stars coming to Chirnside," said Mr Niven.
"I can just remember rows and rows of flowers from the church up to the grave.
"It was a terrible black cloud."
The village was at the epicentre of those emotions and that is why they are remembering him in the area with a series of special events in his honour.
However, the shockwaves were felt much further afield and many people around the world still recall the quietly spoken Scottish sheep farmer who became a sporting superstar.
"You remember him as a young man at his peak, there were still a few world championships in him," said his cousin.
What might have been will never be known, of course, but what Jim Clark achieved before his untimely death - and the manner in which he did so - explains why he is still held in such high regard despite the passing decades.