Borders rugby sevens tournament underage drinking tackled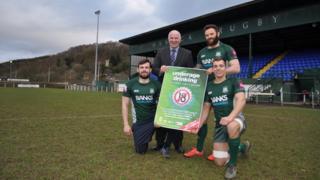 A bid is being made to stop alcohol being supplied to under-18s at rugby sevens tournaments in the Borders.
The latest phase of the Don't Buy It, Don't Supply It campaign kicks off this weekend at the start of a series of competitions across the region.
Adults caught supplying or buying alcohol for an under-18 are being warned they could be fined up to £5,000 or jailed for up to three months.
The campaign will run throughout the tournament season.
The upcoming Kings of the Sevens events are:
Gala - Sunday 1 April
Melrose - Saturday 14 April
Hawick - Saturday 21 April
Berwick - Sunday 22 April
Langholm - Saturday 28 April
Kelso - Saturday 5 May
Earlston - Sunday 6 May
Selkirk - Saturday 12 May
Jed-Forest - Saturday 19 May
The campaign is being taken forward by the Scottish Borders Safer Communities Team, incorporating Scottish Borders Council, Police Scotland and the Scottish Fire and Rescue Service, with support from the Borders Alcohol and Drugs Partnership.
They said under-18s caught with alcohol by the police would have it confiscated which could lead to "serious consequences" for the person who supplied it or bought it.
Retailers and licensees also face "serious implications" if caught selling to under-18s.
SBC's Watson McAteer said: "The Kings of the Sevens circuit is an iconic and hugely popular competition for the Scottish Borders.
"It brings thousands of rugby supporters to communities across the region over a number of weeks and provides numerous spin-off benefits.
"However, it can also lead to an increase in underage drinking in our communities, which is why the Don't Buy It, Don't Supply It campaign has returned."
He said it had been inspired by young people from the TD1 Youth Hub and Galashiels Academy who came up with the initial idea.
John Thorburn, president of Hawick RFC, said it backed the campaign which would ensure their own sevens tournament was "safe and enjoyable" for everyone.
"Teenage drinking can have an immediate and long-term impact on health and the earlier teenagers start drinking regularly, the greater the risk of problem drinking in adulthood," added Tim Patterson, joint director of public health with NHS Borders.
"It is really important that adults consider their responsibilities throughout the year, which this campaign highlights."
Insp Tony Hodges said police wanted everyone to enjoy the rugby in a "safe environment".
"However, we do experience more young people under the influence of alcohol at this time which can lead to youth-related anti-social behaviour," he added.
"I would continue to urge parents and guardians of all young people to discuss the dangers associated with underage drinking with their children."