Jobs threat as seafood firm plans closure of Annan factory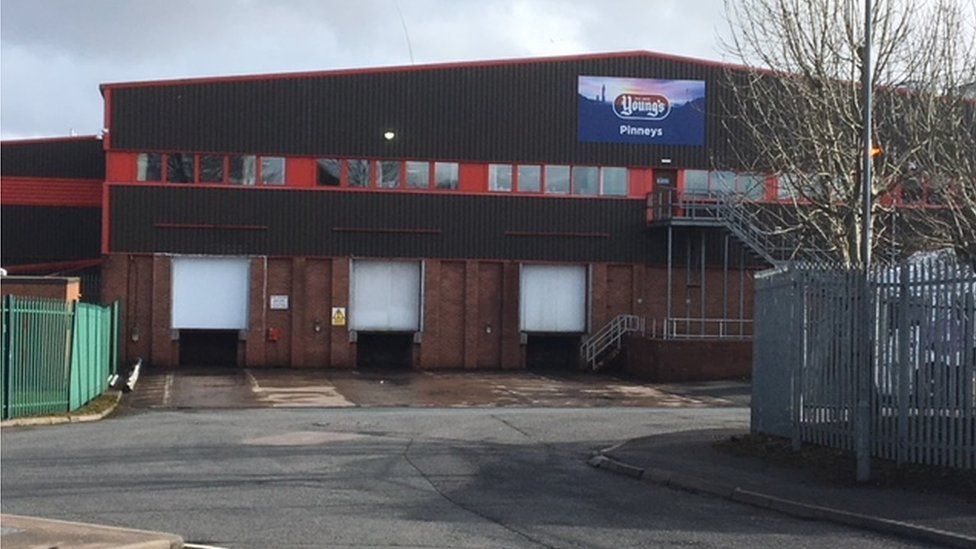 One of the largest private-sector employers in the south of Scotland has announced plans to close a major factory, with the loss of 450 jobs.
Young's Seafood said it would begin a consultation with staff on the future of Pinneys of Scotland, based in Annan.
Local MSP Colin Smyth said the news was "absolutely devastating" for the workforce and their families.
He said it would send "shockwaves" through an already fragile local economy.
And Scottish Secretary David Mundell - a Dumfriesshire MP - warned that the economic damage of such a move "cannot be understated".
Pinneys supplies seafood - including salmon and smoked salmon - to supermarkets including Marks and Spencer.
A major player in the Scottish seafood sector for more than three decades, the company changed hands several times and the current owner is Young's Seafood.
In a statement, Young's Seafood said production at its Pinneys site was "no longer financially sustainable".
It proposes moving salmon production currently undertaken at Pinneys to the company's Grimsby site, following a review of its UK operations.
The firm said it wants to begin a consultation with Annan-based staff and their representatives "as soon as practicable".
And it confirmed that it could result in the loss of 450 jobs before the end of 2018.
If the proposals are implemented, Young's will recruit 200 new roles in Grimsby and an additional 50 posts at its scampi factory in Annan.
'Whole families employed'
Bill Showalter, the chief executive officer of Young's Seafood, said: "Today's proposals to close our Young's Pinneys site does not reflect on the committed and skilled teams at Young's Pinneys - they are a credit to our company and if these proposals do go ahead we will work hard to maintain the employment of all colleagues throughout this transition.
"We have a long history of seafood production in Annan and whatever the outcome of the consultation we will continue to be a part of the community, given our other factory site within the town."
South of Scotland MSP Colin Smyth called on the Scottish and UK governments to make an extra effort to help those affected by the closure.
He said: "There are whole families employed at Pinneys which has served the town as a major employer for decades and this closure will be an utter tragedy for so many people in our area.
"A closure of this scale in such a small community will send shockwaves right across the whole, already fragile, local economy
"It is also a massive blow to the Scottish food and drinks industry to lose such a long-standing processor in Scotland."
The Scottish Labour MSP accused the company of a "real lack of loyalty" to the workforce.
"Annan has never fully recovered from the rundown of Chapelcross and now faces the double whammy of losing its only other big private employer," he said.
Dumfriesshire MP David Mundell said it was a "bitter blow" for Annan.
"The economic damage done by losing a business of this size in Dumfriesshire cannot be understated and it is now vitally important that everyone with a stake in the future of the site works together to see what can be done," he said.
"Given Pinneys longstanding connection with the town I will be demanding that Young's take action to get everybody effected into work or offer them a satisfactory redundancy package."
The Scottish secretary added that the UK government would do all it could to help those affected.