Factory closure plans 'ruthless betrayal'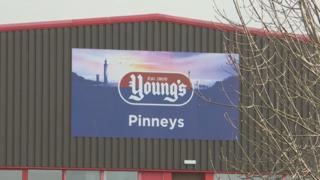 Union officials have accused seafood factory bosses of a "ruthless betrayal" over plans to close the plant.
Young's Seafood is to consult on proposals to shut the Pinneys site in Annan before the end of the year, putting 450 jobs at risk.
The decision was met with anger in the region, where the factory is one of the largest private employers.
Nicola Sturgeon said her government would do "everything possible" to support workers and their families.
Workers were told on Tuesday that Young's planned to move its operations to its Grimsby plant and close the Annan site by the end of the year.
It said production at Pinneys was "no longer financially sustainable" and it would begin a consultation with staff "as soon as practicable".
Unite Scotland said it disputed the assertion and demanded the company open its books in the process of the consultation.
Regional officer Andy MacFarlane said: "The closure of Pinneys amounts to them shutting down the town.
"It is the ruthless betrayal of a local community that has served this company for generations."
Since the announcement, an online petition demanding the factory is saved gathered more than 1,800 signatures in less than 24 hours.
The first minister told BBC Scotland that Enterprise Minister Paul Wheelhouse would talk to Young's about their decision, which she described as a "devastating blow" for Annan.
She said: "This is a deeply concerning situation and a very unwelcome announcement yesterday - one that come without any warning.
"So the Scottish government is determined to do everything we can to understand the reasons for the decision and offer any support that we can."
She said the PACE initiative would be put in place to offer to support to those facing redundancy.
What is the reaction of the Pinney's employees?
Lee Clark has worked at Pinneys for six years. He said there was "confusion and upset" in the factory after the shock news was announced on Tuesday.
"The way things are slowing down, we thought something was up behind the scenes but nobody was getting told nothing," he said.
"Actually getting told the news today was shocking, to be honest."
But long term employee Andy Lupton said he was not shocked by the news
"It's such a thriving business for the community, to lose 450 jobs is quite devastating," he said.
"But it's not unexpected because it's mismanagement of the company. I've been here 18 years and I've never known morale so low. So it was no surprise to me when I heard the news this morning."
He said he was not hopeful that jobs could be saved. "As far as I'm concerned, it's done and dusted," he said. "It's been on the cards for a while. It's no big shock."
Graham Gilmour, from Dumfries, has worked at Pinneys for three years. He said there was a low mood in the factory following the announcement.
"It's really going to hit Annan. There's a lot of angry workers. It's a sad day."
Local Labour MSP Colin Smyth described the move as a "ruthless business decision".
He told BBC Radio Scotland's Good Morning Scotland: "I don't think we can underestimate how utterly devastating this news is for the local community.
"This is a town with a population of just over 8,500, so to lose 450 jobs in one go is absolutely tragic for the area - an area that frankly is still reeling from the decommissioning of Chapelcross nuclear power station."
He called on ministers in Holyrood and Westminster to set up a dedicated jobs taskforce to help mitigate against the impact of the job losses.
"We're urging both the UK and Scottish governments to intervene directly to make available significant extra investment for the area to support existing businesses to grow and attract others to move into the area," he said.
Meanwhile, local SNP MSP Joan McAlpine has written to the chief executive of Young's with a list of 10 questions about the planned closure.
And the Scottish Liberal Democrats have demanded answers from Scottish Enterprise about what action they took to safeguard Pinneys' future in Annan.
Councillor Richard Brodie said he and MSP colleague Jim Hume alerted the enterprise company to the possibility of business going to Grimsby after a meeting with Pinneys' management in 2014.
But he said the Scottish Enterprise were focused on small business support and had no appreciation of the importance of Pinneys to the area.
Scottish Enterprise said later that this was "absolutely not true".
A spokeswoman said it had made "various approaches" to Young's since it took over the factory to highlight the support they could provide, including a visit to the company's senior management team in Grimsby in 2017.
Scottish Secretary David Mundell, who is also the local MP, said the UK government was ready to do "all it can" to help those affected by the closure .
He said: "The news that Pinneys in Annan is to close its doors is a tragedy.
"Pinneys have been an important part of the Dumfries and Galloway community for many years, and their closure will be a great loss in an area with few large employers. My thoughts are with the company's workers, and their families, at this uncertain time."
In a statement issued on Tuesday, Young's chief executive Bill Showalter said the plans to close Pinneys did not reflect on the "committed and skilled teams" at their Annan plant.
He said that if the proposals went ahead, the firm would work hard to "maintain the employment of all our colleagues throughout this transition".