Protest over Pinneys factory closure plans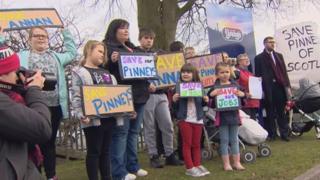 A protest has been held at the Pinneys of Scotland fish processing factory in Annan.
Earlier this week, parent company Young's Seafood announced plans to close the plant, with the loss of 450 jobs and production moving to Grimsby.
Workers and people from the local area took part in the demonstration.
It came as an action group meeting got under way in Dumfries involving council leaders, MSPs and Enterprise Minister Paul Wheelhouse.
On Thursday, Mr Wheelhouse said he would "leave no stone unturned" in his efforts to retain the jobs.
Dumfries and Galloway Council has also vowed not to accept the closure decision lying down.
Young's wants to shut the plant in Annan because it says it is "no longer financially viable".
Concerns have been raised about the impact on the region, where Pinneys is one the largest private sector employers.
Catrina Baxter, who has set up a support group for those affected, told BBC Scotland: "This is going to affect our local community massively and have a major impact on this town as a whole.
"People are absolutely devastated. They don't know how they are going to manage. People have mortgages, they have families to look after."
She said the job losses would affect "whole households" with some families entirely dependent on income from the factory.
"I've got a sister, a brother-in-law and my niece. My sister and brother-in-law have got over 50 years service. My niece has been there since she left school, for six years now.
"All they have ever known is Pinneys."
Young's has said it wants to begin a consultation with Pinneys staff and their representatives "as soon as practicable".
Its chief executive, Bill Showalter, said the proposals did not reflect on the staff at Annan, who he described as a "credit to the company".
"We will work hard to maintain the employment of all colleagues throughout this transition," he added.