Annan woman secures royal wedding invitation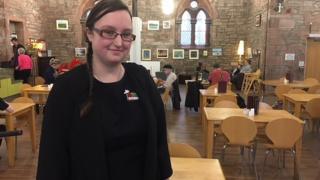 A woman from southern Scotland has landed an invite to Prince Harry and Meghan Markle's wedding.
Amy Wright, 26, from Annan, is among hundreds of members of the public who will be at Windsor Castle next month.
She helps to run the Usual Place cafe in Dumfries which provides training and job opportunities for young people with additional support needs.
Ms Wright said she thought is was "amazing" the couple had decided to invite the public to their wedding.
She found out a few weeks ago that she would get to attend but the news is only just beginning to sink in.
"It is becoming a bit more real today with it being publicly announced," she said.
"I am very much looking forward to the official royal invitation coming through my letter box.
"I think it is very selfless and amazing that Prince Harry and Meghan Markle have decided that they want to - as part of their celebration - have members of the public there."
However, she said she still had a few wardrobe issues to sort out before the big day.
"Being six feet tall doesn't help when it comes to buying dresses," she admitted.
"I think I might go for something spring-like, quite light since it is hopefully going to be a nice day in May that we get.
"Or maybe something blue to reflect being from Scotland."
Ms Wright - who is the chairwoman of the cafe's board of directors - will attend along with the not-for-profit social enterprise's chief executive, Heather Hall.
"When we go we will have the thoughts and the feelings and the backing of everyone back at the Usual Place up in Dumfries," she said.
"We are representing the whole amazing team effort that has been with this project since 2011.
"The fact that we have been invited to the royal wedding - to a major celebration in Britain on that day - that is just amazing."