Threat recedes from squirrelpox outbreak near Dumfries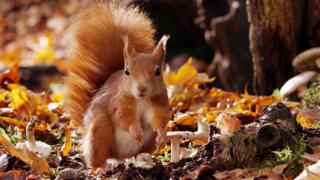 A squirrelpox outbreak on the outskirts of Dumfries "no longer poses an immediate threat" to red squirrels, experts have said.
However, they have appealed for ongoing support from volunteers and the wider community.
The outbreak in Heathhall Forest prompted conservationists to warn of potentially serious consequences.
They have now said the actions taken appear to have helped reduce the risk of infection in red squirrels.
The pox is carried by grey squirrels but is deadly only to reds.
Among the first actions taken to tackle the outbreak was to remove feeder boxes in the woodland to help stop the disease spreading.
'Aggressive virus'
Traps were also set up to capture any infected red squirrels as well as remove greys.
Saving Scotland's Red Squirrels said all the reds it had caught had been free from the disease.
"Several weeks have passed now, and unfortunately it's most likely that the three infected red squirrels that were originally spotted have died," said Dr Stephanie Johnstone.
"Squirrelpox is a particularly aggressive virus in red squirrels, and is normally fatal within two weeks.
"Although very sad for the individual animals, we are hopeful that no new sightings of sick red squirrels means that the outbreak has passed."
She thanked the volunteers who had helped them implement such a "swift and effective response".