Jean Hanlon death: Family vow to continue fight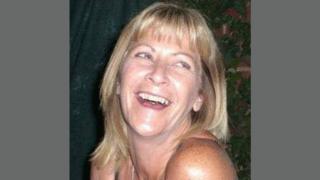 The son of a Dumfries woman found dead off the coast of Crete has said he will never give up efforts to find out what happened to his mother.
Jean Hanlon's body was discovered in 2009 but how she died has never been ascertained.
Her son, Michael Porter, said he had now been told that the case was being archived.
However, he said that there remained "unanswered questions" which he still hoped could be resolved.
After Ms Hanlon's death a local coroner declared the cause of death as drowning but a second post mortem suggested she had injuries consistent with a struggle.
'New evidence'
Mr Porter said that the case being archived again was a setback to the family's pursuit of answers.
"In their terminology that is just filing the case away until new evidence comes forward," he said.
"But if they're not investigating then how are they going to get new evidence?"
Despite the difficulties - which he highlighted to MPs at Westminster this week - he said the family would continue its efforts to find out what happened.
Live appeal
In particular, they hope to trace a man who was seen with Ms Hanlon in a cafe in Heraklion on the night she died.
They intend to hire a new lawyer - ideally a British one based in Greece - and get the case reopened.
Mr Porter also wants to make a live appeal for information on Greek TV.
"We have been in this situation before when the case has been archived and it took a year and a half to get it reopened," he said.
"We will do that again.
"Never in the whole nine years have I ever thought about giving up - never has the thought of giving up crossed my mind."