Lowther Hills wind farm bid scaled back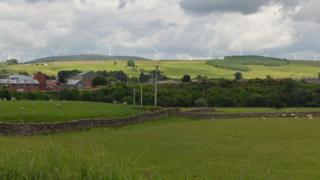 Plans for a major wind farm in the Lowther Hills have been scaled back.
Developers said they hoped it would address concerns about the visibility of turbines from certain viewpoints.
The North Lowther Energy Initiative would now see 30 turbines - rather than 35 - built on a site east of Sanquhar and north west of Wanlockhead.
Another round of consultation on the scheme will take place before the Scottish government has the final say on the project.
The development is a partnership between Buccleuch and Forsa Energy (formerly 2020 Renewables).
They hope the changes can address concerns raised about the visibility of turbines from the nearby Mennock Pass.
Alan Baker, chief executive officer of Forsa Energy, said: "Since submitting the initial application last June, we've been working hard to speak to stakeholders and to listen to their views on the plans.
"We're pleased to submit this updated application which we believe will address many of the concerns raised during that period and will not only reduce the visibility of turbines from several viewpoints but also decrease the footprint and infrastructure of the development."