'Hardman' claim at Peebles postwoman murder trial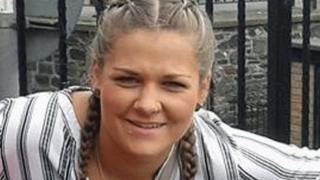 A man stabbed a postwoman to death shortly after saying: "I may as well kill somebody", a court has heard.
Nicholas Rogers, 27, was said to have stuck a knife in the chest of Alexandra Stuart as she sat crying on a couch at a house in Peebles last August.
The court was told he armed himself with a blade having earlier claimed he was a "hardman" and a "bad person".
On trial at the High Court in Glasgow, Mr Rogers has denied murdering Ms Stuart.
However, he admitted killing her on the grounds his "ability to determine or control his conduct" was "substantially impaired" due to an "abnormality of mind".
The court heard evidence from Ms Stuart's friend Rebecca Allen who recalled travelling down to Peebles from Glasgow last August when the local rugby sevens tournament was on.
'Not good vibes'
They, along with others, visited a number of bars before ending up at a house party.
Ms Allen said Mr Rogers had also appeared and was drinking from a bottle of gin.
She told the court she did not get "good vibes" from the man who later emerged from the kitchen clutching a knife with a black bag around the handle.
Ms Allen said she had tried to reason with him and then described the moment he struck her friend.
"He just went in a downwards action and stabbed Alex right in the chest," she said.
'Colour fading'
Ms Allen said she had tried to push him away but he had grabbed her face and smacked her head against the wall.
He then walked out and she was able to check on her friend.
"I could see the colour fading from her face," Ms Allen told the court.
"She did not make a noise for about three minutes. I tried to keep her awake. There is nothing that I could have done."
The court heard police and paramedics soon arrived but Ms Stuart died later in Edinburgh Royal Infirmary.
The trial, before Lord Summers, continues.