Murder accused 'wanted to be known as The Beast'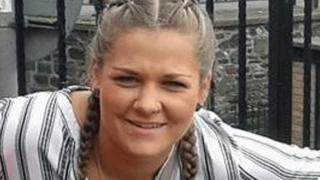 A court has been told that a man accused of murdering a postwoman in the Scottish Borders wanted to be known as "The Beast".
Nicholas Rogers, 27, also claimed he was a "broken toy" who could not be fixed.
His trial at the High Court in Glasgow heard how he asked ex-girlfriend Katrina Kelly if she wanted anyone "sacrificed".
Mr Rogers denies murdering Alexandra Stuart in Peebles last August.
He admits killing the 22-year-old - but has claimed he was suffering from an "abnormality of the mind" at the time.
'Under control'
Ms Kelly, 19, told the trial how she had started dating Mr Rogers in August 2016 and had become aware he had a number of personal problems.
The court heard these were apparent mental health difficulties as well as gambling and alcohol issues.
Ms Kelly recalled the couple going on a three-week holiday to Thailand where any problems "seemed more under control".
However, the court heard Rogers spent time at a hospital back home in the Borders and also had a private counsellor.
Ms Kelly told jurors how the couple later watched the film Split about a character with different personalities, including one known as The Beast.
On 3 August last year - days before the killing - the witness recalled having "concerns".
'Killed someone'
She was asked by prosecutor Keith Stewart QC if Mr Rogers referred to himself as "The Beast" at that time.
"I was not to call him by his name and he would only respond to being called that," she said.
On the morning of 6 August - after Ms Stuart had allegedly been murdered - Mr Rogers then contacted his partner asking to be picked up.
As she tried to find him, Ms Kelly recalled him stating: "I think I have killed someone. You have to come and get me."
Mr Stewart asked her: "Did he say what happened?"
"He said that they were laughing," she said. "I told him that I had to call the police."
The trial, before Lord Summers, continues.