Scottish Borders parking problem blackspot appeal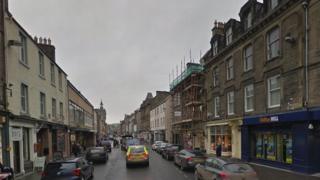 Residents in the Borders are being asked to flag up the town centre areas with the biggest parking problems.
A Scottish Borders Council working group is gathering evidence on issues across the region.
An online survey has been launched to give people and businesses the opportunity to provide evidence of any problems.
They have been urged to highlight "specific places, days and times" where parking is a problem.
'Clearly marked'
Gordon Edgar, who chairs the working group, said: "The objective of the group is to maximise parking opportunities in our local town centres, ensuring that there is sufficient turnover of spaces to bring economic benefits to business and to make sure that where parking restrictions are in place these are clearly marked and enforceable.
"As part of our evidence gathering we want to hear from people on specific places, days and times when parking is a problem.
"This information must be as specific as possible to ensure that we have the full picture and can compare to any existing regulations and explore potential for additional spaces, restrictions and enforcement."