Torthorwald thatched cottage bounces back from blaze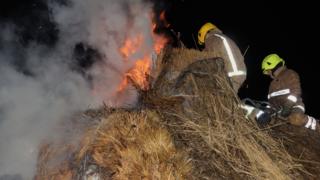 A thatched cottage dating back to the mid-1700s is set to reopen after being badly damaged by fire.
Part of the roof at the A-listed Cruck Cottage at Torthorwald - which is operated as a museum - was destroyed by the blaze in January.
A special theatrical performance is taking place in the building to mark the reopening this Sunday.
A police investigation into the fire at the cottage - which was described as suspicious at the time - remains open.
The cottage gets its name from the oak "crucks", or trunks, which support the roof and are laid with heather turf and thatched with rye straw.
It is the only remaining building of its kind in the area and is owned by Solway Heritage and maintained and run by the Cruck Cottage Heritage Association (CCHA).
Bill Lawson - who chairs the CCHA - said the association was grateful for all the support it had received since the fire.
"When the fire occurred, obviously, it really was a disaster as far as we were concerned," he said.
"But I have to say immediately my committee came together and started getting things sorted out.
"Also the help and support we had from the local community right from the very start was absolutely fantastic."
He said the association had also received a number of "generous donations" to help get the cottage back up and running.
"In no time at all we had things in place to start the repairs, everything just seemed to fall together," he added.