Hawick Common Riding alcohol efforts praised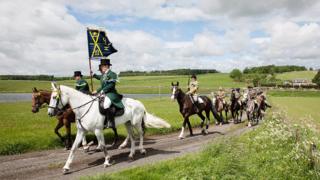 Police have praised efforts to address "disruptive and anti-social behaviour" at a Borders summer celebration.
Hawick Common Riding kicks off a series of such events across the region.
Police said that previous events had at times been marred by "inappropriate behaviour by a minority", much of it alcohol-related.
However, they said that along with the common riding committee and Scottish Borders Council, it was something they were "working to eradicate".
The main common riding events in Hawick take place from 7 to 9 June this year.
'Core values'
Ch Insp Andrew Mclean said: "The steps taken by the committee - for example, the deployment of professional stewards to administer and enforce age-determining wristbands - go hand-in-hand with national campaigns such as 'Don't Buy It, Don't Supply It' which tackle underage alcohol use.
"We actively police all events in a manner which reflects our core values of integrity, fairness and respect under our overarching principle of keeping people safe.
"I urge everyone who attends, in whatever capacity, to behave responsibly, respect each other, the event and the community at large."
He said any incidents of "abusive or disorderly behaviour" would be investigated and - where necessary - reported to the procurator fiscal.
He added that he wished everyone involved in the common riding "a successful and enjoyable year".