Jury urged to convict Peebles murder accused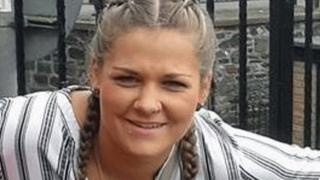 Jurors have been urged to convict a man of murdering a postwoman in the Scottish Borders last year.
Prosecutor Keith Stewart QC said Nicholas Rogers, 27, had been drinking and "behaved as he wanted with no heed for the consequences".
He has denied murdering Alexandra Stuart in Peebles but admits killing her, claiming he was suffering from an "abnormality of the mind" at the time.
The trial at the High Court in Glasgow continues.
Mr Stewart suggested that Mr Rogers had "openly relished" his "position of power" while armed with a blade.
He was said to have "turned down pleas for mercy" before "plunging" the weapon into Ms Stuart's chest as she sat crying on a couch.
The advocate depute said before Mr Rogers struck the young woman he had had "chances to step back from the terrible abyss".
'No winner'
Mr Rogers claims he was acting with "diminished responsibility" that morning.
His QC, Brian McConnachie, said the "question of mental health" was "an incredibly difficult one" for those "lucky enough not to suffer from it".
He went on: "There is no winner here irrespective of the verdict.
"A young woman lost her life at the hands of the man in the dock.
"If it's murder or culpable homicide due to diminished responsibility, either way, Alex Stuart cannot be brought back.
"Nicholas Rogers has to live with the fact he took a life."
However, the advocate concluded by suggesting "the balance clearly tipped in favour" of the reduced charge.