Property sales net Buccleuch Group £9m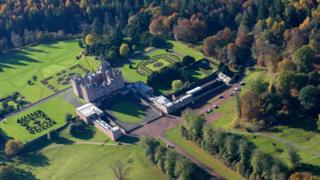 One of Scotland's biggest private landowners, Buccleuch Group, made £9m from property sales last year.
The figure is contained in group financial statements for the year ending 31 October 2017.
They show a profit before tax of £4.8m - but an adjusted operational loss before tax of £4.8m.
The Duke of Buccleuch said the results reflected their strategy of investing in commercial property, renewable energy and hospitality and tourism.
"We continue to review our rural assets, in line with our ambition to reduce the overall landholding of Buccleuch," he said.
"We are committed to balancing economic, environmental and community considerations within our land use decision-making and where the decision is made to sell land or property, the proceeds are largely re-invested in our key strategic sectors.
"These investments will make a significant contribution to economic development in the south of Scotland and create employment opportunities in these local communities."
Buccleuch said the Glenmuckloch Pump Storage Hydro Scheme in Upper Nithsdale and the expansion of tourism and hospitality operations at Dalkeith Country Park were among its key priorities along with other renewable energy projects.
Profits before tax reported in the accounts of parent holding company the MDS Estates Ltd amounted to £4.8m but this included profits on the sale of rural properties of £9m.
Chief Executive John Glen said the adjusted operational loss of £4.8m was a "more meaningful" representation of Buccleuch's underlying trading performance.
Reduced debt
He said the company had made "positive progress" across a number of sectors with record visitor numbers at Dalkeith Country Park where an additional 70 staff were now employed.
"At the same time as increased investment within the estates, we are also reducing our overall debt levels," he said.
"We continue to invest heavily in rural Scotland and this is at a time when we will approach a post-Brexit policy framework that will present some very real challenges for rural businesses."