Mother and baby in Selkirk crossing scare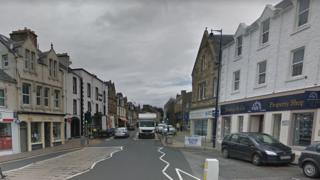 Police are trying to trace a driver who ignored a red light while a mother and her 12-week-old baby were using a pedestrian crossing.
The incident happened at about 11:15 on Thursday on the High Street in Selkirk.
Police said the 35-year-old woman was carrying her son and had waited for the green man to cross.
However, the car passed through the red light - heading north on the A7 - which police said could have caused a "very serious collision".
The woman and child were using the crossing from the County Hotel towards Douglas Gilmour and Sons when the incident occurred.
'Relatively close'
The driver has been described as being about 30 to 40 years old with dark hair and was driving an "old style" 4x4 vehicle.
PC Lesley Shiell said: "Fortunately, no-one was injured during this incident, but it left the mother quite shaken, as the car passed relatively close to where she was crossing with her son.
"The driver's failure to observe the red light could have resulted in a very serious collision and we are treating this matter very seriously.
"Anyone who was on Selkirk High Street on Thursday morning and witnessed what happened, or who can help us identify the male driving the 4x4 car is urged to contact police immediately."