Historic Castle Douglas bakery firm M Corson to cease trading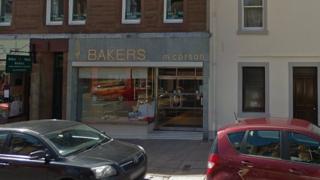 A family bakery business dating back nearly 140 years is to cease trading.
M Corson has confirmed it will "reluctantly" shut all four of its stores in Dumfries and Galloway - a move affecting 34 staff.
It has two outlets in Castle Douglas as well as shops in Kirkcubright and Dalbeattie.
The company was put up for sale in 2008 and after 10 years without finding a suitable buyer, the decision has been taken to shut for good.
A consultation is to be undertaken with staff over the closure.
The business said it would support each individual as far as possible in finding new roles.
Father and daughter owners Allister and Ann Grierson have both been involved in the bakery for decades.
Ms Grierson said: "It has been an enormously hard decision to make.
"Some of our staff have been with us for more than 40 years and it is a very tightly-knit and loyal team.
"We will be doing all we can to help them find new jobs."
She said job security and continuity for staff had been their top priority when they put the business on the market.
Supermarket competition
"In the years since, footfall has become more erratic which is difficult to cater for when you provide freshly baked food, there has been an overall decline in people visiting the high street and competition from supermarkets has increased as they have expanded their offering," she added.
"We have many customers who have been coming to us for decades and I would like to thank them for their support over the years.
"We will continue to provide them with the rolls, cakes and other treats they enjoy right up until our closure."
The bakery was founded in Castle Douglas by Ms Grierson's great-great-aunt, Margaret Clark, in 1880.
After supplying bakeries in Kirkcudbright and Dalbeattie for several years, M Corson took over the franchises for both during the mid-1990s.