Langholm building firm failure hits Borders cancer unit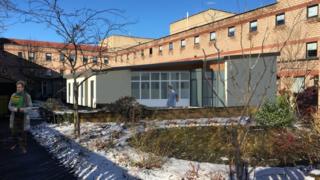 Work on a cancer unit in the Borders has been put on hold after the collapse of a building firm.
Langholm-based T Graham & Son (Builders) Ltd - who had been appointed as contractors - ceased trading last month.
It has meant a "temporary pause" to the £800,000 expansion of the Macmillan Centre at the Borders General Hospital.
NHS Borders said work was at an early stage and it would take a minimum of three months to get a new contractor.
The project has been funded by Macmillan Cancer Support and a fundraising campaign by the health board's charity The Difference.
'Reassure everyone'
NHS Borders Finance Director Carol Gillie said: "Firstly I would like to express my sympathy for the employees of T Graham and Son who have lost their jobs as a result of this situation.
"Recognising the importance of the project to the many stakeholders involved we aim to resume work on site as soon as we possibly can.
"I would like to reassure everyone who has generously donated to this project that their donations are ring-fenced and will be used for the purposes they were intended."
'Generously donated'
She also said there would be no impact on treatment during the hold-up or when work restarted.
Macmillan's head of services in Scotland, Janice Preston, added: "We are saddened to hear of this local company going into liquidation and all the people this will affect.
"The impact on the expansion and improvement works will be kept to a minimum and we would like to reassure everyone locally who generously donated towards this development that we will be working with NHS Borders to get work under way again later in the year.
"We look forward to sharing updates on our progress in the coming months."