Poundstretcher makes way for Great Tapestry in Galashiels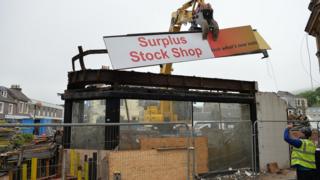 A pound shop demolition has cleared the way for a permanent home for the Great Tapestry of Scotland in the Borders.
The old Poundstretcher store in Galashiels will be replaced by the visitor centre in a £6.7m project.
It will also see the nearby former Post Office in the town brought back into use with construction expected to begin in October.
Scottish Borders Council said it was a "significant milestone" in a scheme to boost regeneration of the area.
The former pound shop was pulled down over a seven-week period, ahead of schedule.
Once the visitor centre is constructed on the site it is hoped it will attract more than 50,000 people to the town each year and create 16 jobs.
Extra annual spending of £900,000 has been forecast for the local economy, supporting another 17 posts.
Earlier this year, the project secured £1.18m from the Scottish government's regeneration capital grant fund.
As well as the visitor centre, SBC hopes to see wider improvements and councillors are being asked to back five streetscape projects.
They include:
improvements to Channel Street and Douglas Bridge
better visitor signs for the centre and other attractions
the creation of the Coulter Candy Trail - dedicated to the Galashiels weaver Robert Coltart who wrote the folk song Ally Bally Bee
SBC's executive member for business and economic development Mark Rowley said it was a "hugely exciting time" for the town and the region.
He said the project could help "reshape the town" and encourage investment.
The Great Tapestry of Scotland centre is expected to open in spring 2020, and will be managed by Live Borders, the region's culture and sports trust.
Chief Executive Ewan Jackson said "community and collaboration" were central to the project, just as they had been in the creation of the tapestry itself.
The progress being made was also welcomed by Mike Gray, of Energise Galashiels Trust, who said it was great to see "another step" being taken to help regenerate the town.
"The Great Tapestry of Scotland is a national treasure that tells Scotland's story in vivid colours and images," added Alistair Moffat of the tapestry trustees.
"It will shine like a jewel not only at the heart of Galashiels' regeneration but also attract thousands to come to the Borders or stop to discover more about our history on their way north."