The school children who live in England but are taught in Scotland
By Jamie McIvor
BBC Scotland education correspondent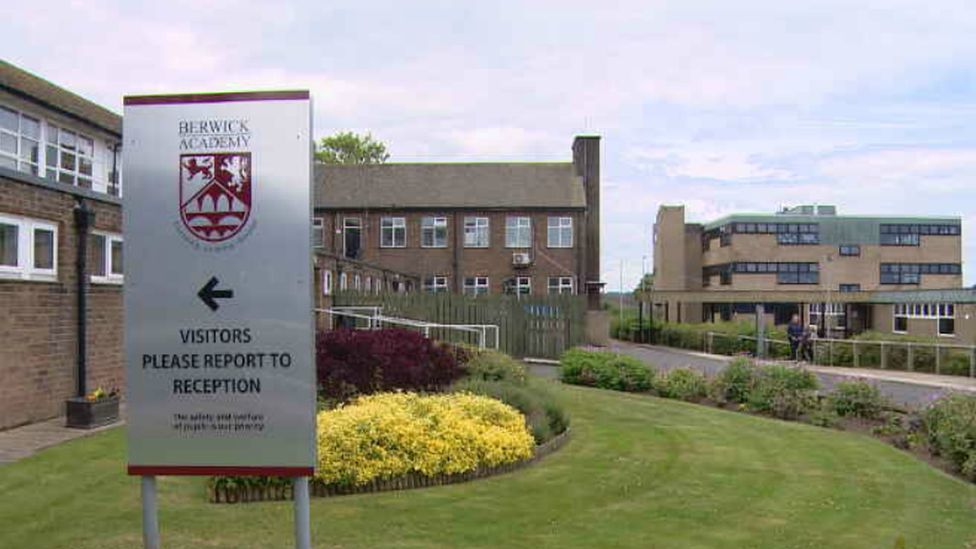 Schools in the Scottish Borders are teaching more than 100 children who live in England.
Many of the pupils attend the secondary schools in Eyemouth and Duns.
One reason for the high number of placing requests may be the legacy of problems at Berwick Academy - although the school's new acting head believes it has now turned the corner.
A total of 103 secondary school pupils with English postcodes are at schools run by Scottish Borders Council.
The largest number are at Eyemouth High and Berwickshire High School in Duns which are within easy travelling distance of Berwick.
The reasons why parents from Northumberland have asked to send their children to schools in the Borders have not been made public.
They are likely to be for all sorts of reasons - personal convenience, ensuring siblings go to the same school, family tradition or even a positive preference for the Scottish system.
But concern about Berwick Academy, which faced years of difficulty, is widely believed to be a factor too.
Concerns had previously been expressed about both exam results and behaviour.
It received highly-critical reports from the English education watchdog Ofsted and was placed on "special measures" last year.
The school says it is now working hard to make significant improvements and the head teacher believes these are already showing benefits.
Local councillor Georgina Hill said some parents had tried to send their children "anywhere but Berwick".
She said they tried for places at schools in Scotland or elsewhere in Northumberland despite the long journeys and practical difficulties. Some were also sending their children to the local fee-paying school.
Ms Hill explained: "What it has meant is that parents do not want to send the pupils to the academy so they've been sending the children elsewhere - further south in Northumberland to Alnwick and Morpeth and across the border to Scotland to schools like Duns and Eyemouth which obviously involves considerable travelling distances.
"Some people have been commuting up to three hours a day which is obviously a cost and inconvenience."
Teenager Alana Flatman attended Berwickshire High in Duns.
Alana - who is now 19 - is about to start an apprenticeship with Northumberland County Council. She and her mother decided to take "positive action" because she had been badly bullied at her middle school and feared things might have got worse had she gone on to Berwick Academy aged 14.
She said: "I feel it was a positive reaction against the bullies and it was proven to be a success."
It did, however, mean that Alana had to travel for an hour every day to school and obtained Scottish qualifications.
Councillor Hill said she would always support the right of parents to send their child to the school of their choice, but was encouraged by action being taken by Berwick Academy's new acting head.
She said she hoped the school would enjoy the confidence of more parents in the future so any decisions to go elsewhere would be for entirely positive reasons.
She said: "When the school was put onto special measures it was an awful thing to happen but at least it meant that they recognised that the change process and recovery process could start.
"It's not going to happen overnight, but there are a lot of plans in place to turn round the school."
Earlier this year, Berwick Academy's head teacher left. The new acting head, Steve Wilkes, is keen to highlight the improvements being made to the school and efforts to restore its local reputation.
He is confident the school has now turned a corner and is putting the past behind it.
He said "We've still got a long way to go but all the feedback we've had so far has been very positive."
Mr Wilkes had this message for any parents who were reticent about sending their children to his school: "I would say we would welcome anybody in. We'd encourage anyone to come and visit us at any time.
"Likewise, often people's perceptions of the school are from things like social media or they might have come to the school 25 or 30 years ago and things have changed a lot since then. Speak to our students. Our greatest ambassadors are definitely our students."
Visitors are greeted by a big display of uplifting stories about recent former pupils - some have gone on to the most prestigious university courses or achieved national sporting success. Another appeared on MasterChef.
Alana's good experience in Duns, however, meant her younger sister also went to school there and her brother will follow this year. But she agrees a decision to go to a Scottish school should not be taken lightly.
She said: "I would really do my research before taking any drastic action, although I do prefer the Scottish qualifications system over the English one."
The largest teachers' union, the EIS, said it had no problem in principle with Scottish councils accepting placing requests from students living in England and did not wish to comment on the specific situation in the borders.
A spokesman said: "Schools will always seek to provide the very best experience for the students in their care, irrespective of whether they live north or south of the border. The education policy framework on Scotland is markedly different from England, however.
"The EIS supports the principle of local comprehensive schools, which is the basis of Scotland's education system. Clearly, if schools have spare capacity then accommodating parental requests or meeting particular pupil needs becomes possible, where there are no additional budget implications."
The Scottish government said placing requests were a matter for councils. Scottish Borders Council declined to comment.
The big decisions around placing requests
Accepting placing requests - whether from Northumberland or neighbouring parts of Scotland - does not cost Scottish Borders Council a significant amount of money.
Schools and councils are entirely at liberty to reject placing requests and normally only accept them when they have spare capacity.
The main costs involved with running the education service are the wages of teachers and other staff and the cost of running the buildings.
The precise number of pupils only makes a marginal difference to everyday expenditure - for instance, the number of jotters a school needs or the volume of ingredients needed in home economics.
In a purely financial respect, if Scottish Borders accepts a placing request for a child who lives in Northumberland it is no different to Edinburgh City Council accepting a request from the family of a child who lives in Midlothian.
However, it is a much bigger decision for the child and their family.
'No reciprocal arrangements'
The pupil is leaving one education system and going into another one which it is not directly aligned with. It also means they will obtain Scottish qualifications - National 4s and 5s, Highers and Advanced Highers - rather than GCSEs and A Levels.
The daily journey to school will often be significantly longer and costlier - it is 15 miles from Berwick to Duns and nine miles from Berwick to Eyemouth. Free school transport would not normally be provided.
It is worth debunking a rumour before it starts. Merely attending a Scottish school does not mean the student would automatically be entitled to free university tuition - that depends on residency so is a more complex matter.
Technically though, it could be argued that some English children are having their education paid for by a Scottish council and Scottish taxpayers with no reciprocal arrangements.
However, as anyone who lives close to the border knows, the border is fluid - there are many people who live on one side and work on the other or who have moved a few miles to the other side to get a new house or job.
And simplistic points can be made on either side of that argument. Councils get much of their money from the Scottish government which in turn gets much of its money from Westminster.