Student attack 'reflects badly' on Dumfries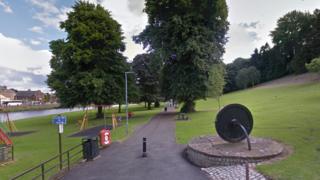 Police have said an attack on three foreign students in Dumfries "reflects badly" on the town.
The group - who had been assisting at the Youth Beatz festival at the weekend - were assaulted in the Mill Green area at about 23:00 on Monday.
Police said two youths were involved in an argument with the three Duke of Edinburgh Awards students.
They subsequently attacked the trio before making off from the area. An appeal for witnesses has been made.
First assailant
Police said the "main instigator" of the attack was 5ft 7in tall and had a skinny build.
He was wearing an orange t-shirt, possibly sleeveless, and black denim shorts or jeans and was drinking from a bottle of beer.
The second youth was about 5ft 6in tall, of medium build and was wearing a black hat and sunglasses and was aged about 15.
Police said he had tried to calm the first assailant down.
"This incident reflects badly on the town and police are keen to identify those responsible and bring them to justice," a spokesman said.