NHS Borders medical director confident about finances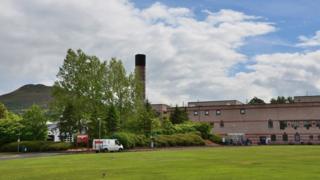 A medical director at a health board that needs a loan to balance its budget this year has said he is confident of turning things around.
NHS Borders is one of four organisations in need of "brokerage" to fill funding gaps.
Dr Cliff Sharp said the board would look at "every area" of the services it provides to address the situation.
He said it would ensure it got "absolutely the best possible value" out of the money it spent.
Dr Sharp said the board faced a range of challenges in balancing the books.
'Difficulties recruiting'
"We have an ageing population, we have medical inflation whereby the cost of technology and services rises year and year," he said.
"We have difficulties recruiting staff and therefore have to employ agency nurses and doctors."
He added that the drugs budget went up by between 8% to 14% every year.
However, the medical director stressed that by ensuring they received value for "every penny" spent, they could address the issue.
"If we can do that and assure the government that we can reorganise things in that direction, then we will help make the books balance and get things back to normal over the next two to three years," he said.