Stranraer harbour safety concerns tackled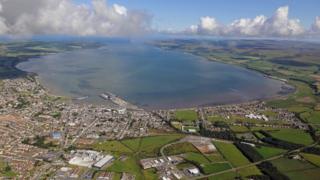 A barrier system is to be used to restrict public access to a harbour after experts called for a "fundamental review" of safety in the area.
Concerns were raised in Stranraer about the interaction between pedestrians, traffic and commercial activities.
A series of options was presented to Dumfries and Galloway Council in order to address the issue.
However, it was told that only the barrier option would meet legal requirements over the situation.
A Health and Safety Executive visit to the area in February found vehicles parked "randomly" on the quayside and taxis "three abreast" outside any marked parking areas.
Other concerns included cars using a promenade walkway to make deliveries and vehicles bumping up and down the kerbside next to the pier.
The local authority will now introduce temporary measures to restrict access at Stranraer harbour while plans are developed for the installation of a permanent barrier system.